Our female entry for the Carlisle Limousin female sale on May 4th will see an exceptional entry of eight heifers forward, which we believe is the best bunch of Limousin heifers Foxhill has ever offered for sale.
This is the youngest string of heifers we have offered for a May Carlisle sale and all of them are by the 145,000gns Trueman Jagger. We strongly believe all of them would make exceptional foundation females for any true Limousin enthusiasts, as well as make excellent show potential heifers for this season or next.
Included in the offering are two full sisters out of our highly successful foundation female Bankdale Alice; Foxhillfarm Narnia and Foxhillfarm Nextmillion. Alice is responsible for breeding numerous headline males and females and to date has grossed more than 500,000gns in progeny sales.
Among those headline names is the the multi award winning Foxhillfarm Gracie, who herself bred the February 2017 Carlisle champion, Foxhillfarm Louivitton who sold for 20,000gns and a reserve champion at the Carlisle May 2017 sale; Foxhillfarm Manhatten, who made 35,000gns. She also bred Foxhillfarm Looksthepart who won numerous classes and stood reserve bred champion at the Royal Highland Show in 2017.
Foxhillfarm Narnia, born May 17, has a beef value of +42 and like her sister carries tremendous width and is incredibly correct over the plates. Both heifers carry the F94L and Q204X genes as well, with Nextmillion carrying a beef value of +44. Nextmillion would be a tremendous heifer for the show ring with her width and size.
Five of our heifers are then out of Foxhillfarm Isla, herself a daughter of Alice and full sister to Gracie. Isla began her show career in May 2013 winning her class at the Cornwall Calf Show and in 2014 was part of the interbreed champion team at the Royal Highland. We have retained a full sister to these heifers, Foxhillfarm Naomi, who stood reserve junior champion at the Stars of the Future Calf Show last year.
Foxhillfarm Nellie, a May 2017-born heifer carries a beef value of +43 and would be a good future breeding female for any herd. She carries size and correctness throughout, as well as great locomotion. She also has one copy of the F94L gene, as well as a copy of the Q204X gene.
Foxhillfarm Natalie, again born in May has a beef value of +41, as well as a double copy of the Q204X gene, therefore, it's no surprise that she carries tremendous shape across her top and plates. Along with her tremendous carcass attributes, like her sisters she is incredibly feminine. This on will no doubt be a super show heifer and one not to miss.
Foxhillfarm Nicola, born at the end of May has a beef value of +43 and carries a copy of the F94L gene and the Q204X gene. She is yet another correct example of this successful mating. She is a very correct feminine heifer with shape and style.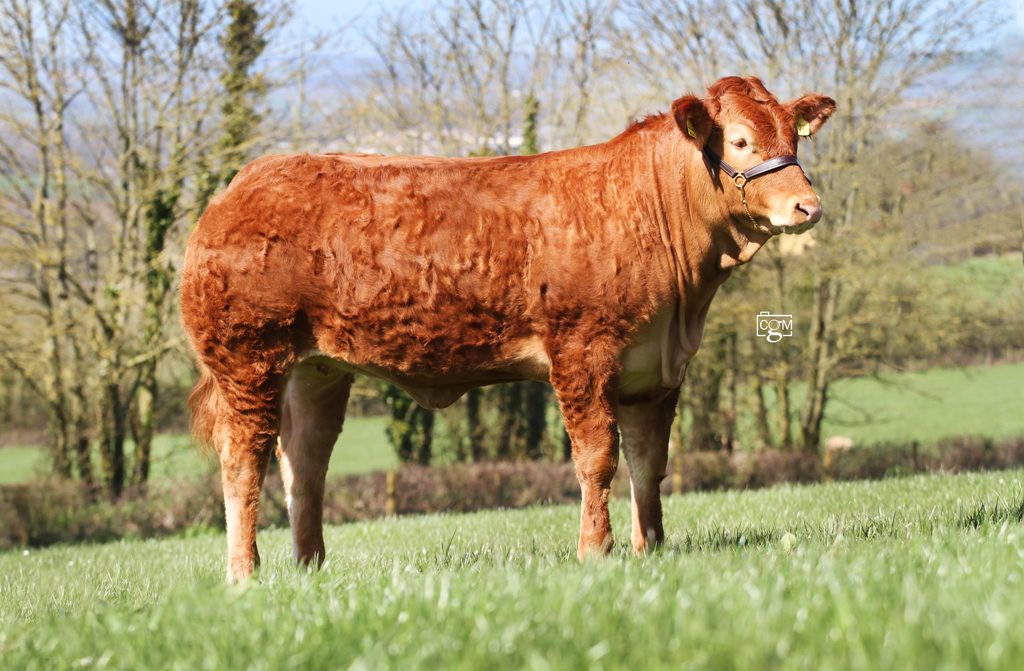 Foxhillfarm Noleen, with a beef value of +42, is a stylish heifer and carries a copy of the NT821 gene, as well as the Q204X gene. She has great presence and style and has promise as a future show heifer.
Foxhillfarm Nannymcphee is the last to be offered of this flush and carries a beef value of +44. This one has been a stand out from a young age and will no doubt make a quality show heifer and future flush cow. She has size, power and width and carries a copy of the NT821 gene and the Q204X gene.
Our final heifer to be offered is the January 2017-born Foxhillfarm Nancy. This one is out of the herd's other foundation female, the 35,000gns Bankdale Elizabeth, who herself has grossed more than 250,000gns worth of progeny sales to date.  Elizabeth is a Wilodge Vantastic daughter out of Alice and has already proved her worth producing headliners such as the 38,000gns Irishlad, the 11,000gns Incredibull, the 9000gns Magregor and the Royal Cornwall interbreed champion Limited Edition.
Nancy, with a beef value of +53, is a big powerful heifer with great presence. She carries one copy of the F94L gene and a copy of the NT821 gene and will make a fantastic addition to any herd. Her figures are in the top 1% of the breed and her full sister Madonaa was first and senior heifer champion at the Stars of the Future Calf Show in 2017, while her full brother, Masterbull, was champion at the recent Newark show and sale and sold for 5000gns.
We would like to wish all purchasers the best of luck with these heifers and look forward to seeing how they perform in the future in their new herds.