Foxhillfarm Limousins certainly kicked off the pedigree sale season, post Cover-19 restrictions, at Borderway Mart, Carlisle on Friday 31st July by selling to a top of 19,000gns for the 13-month old heifer, Foxhillfarm Primadonna.
Commenting on the sale, auctioneer James Little said: "It was an honour to sellthese fantastic females on behalf of the Alford family. With some trepidation ahead of the sale with regards to Covid-19 restrictions and regulations, we were delighted with more than 120 registered buyers and 20 buyers registered online."
Primadonna is a daughter of noted sire, Ampertaine Gigolo out of the highly successful show female, Foxhillfarm Mammamia, herself a daughter of the 125,000gns Glenrock Illusion. The dam, Mammamia, stood breed and interbreed champion at the Royal Highland Show. After spirited bidding, the fall of the hammer went to A Renton and HSB Redden Partners for the Meadowrig herd, Berwick Upon Tweed, Northumberland.
Next best and topping trade for unhaltered calves at 14,000gns was Foxhillfarm Rebecca. Born in January this year, this one is by Haltcliffe Dancer and out of Foxhillfarm Isla, a Wilodge Vantastic daughter out of the herd's foundation female and prolific breeder Bankdale Alice.  Isla is also the dam of the Triple Crown winning Foxhillfarm Naomi. Taking this one home to Northern Ireland was Gareth Corrie of the Drumhilla herd, Newtownards.
Selling for 8500gns was the August 2015-born Foxhillfarm Looksthepart. This super potential show cow is by Guards Boomer and is out of the multi-award winning Foxhillfarm Gracie, the first animal to be born in the Foxhillfarm herd and herself another daughter of Bankdale Alice. She was knocked down having been scanned in calf to the 30,000gns Goldies Owain to Chris Johnston, Fivemiletown, Co Tyrone.
Joining her at 6800gns for Mr Johnston's Johnstown herd was Foxhillfarm Royalty, the second highest priced unhaltered calf on the day. This one is full sister to the sale leader being by Ampertaine Gigolo and out of Foxhillfarm Mammamia.
At 6500gns was the June 2019-born Foxhillfarm Pearl. By the 35,000gns Foxhillfarm Lordofthering, she's out of the Haltcliffe Dancer daughter, Corranhill Krystal who was interbreed champion at Devon County Show in 2017 and is also the dam of the 26,000gns Foxhillfarm Ourbest. Taking this one home were the Ridley family of the Haltcliffe herd, Wigton, Cumbria.
Then selling for 6000gns was Foxhillfarm Missworld, a daughter of the 38,000gns Foxhillfarm Irishlad and out of the 125,000gns Glenrock Illusion. This one was sold having run with herd stock bull Goldies Owain to Paul Cairns for his Plumtree herd, Tollerton, Nottinghamshire.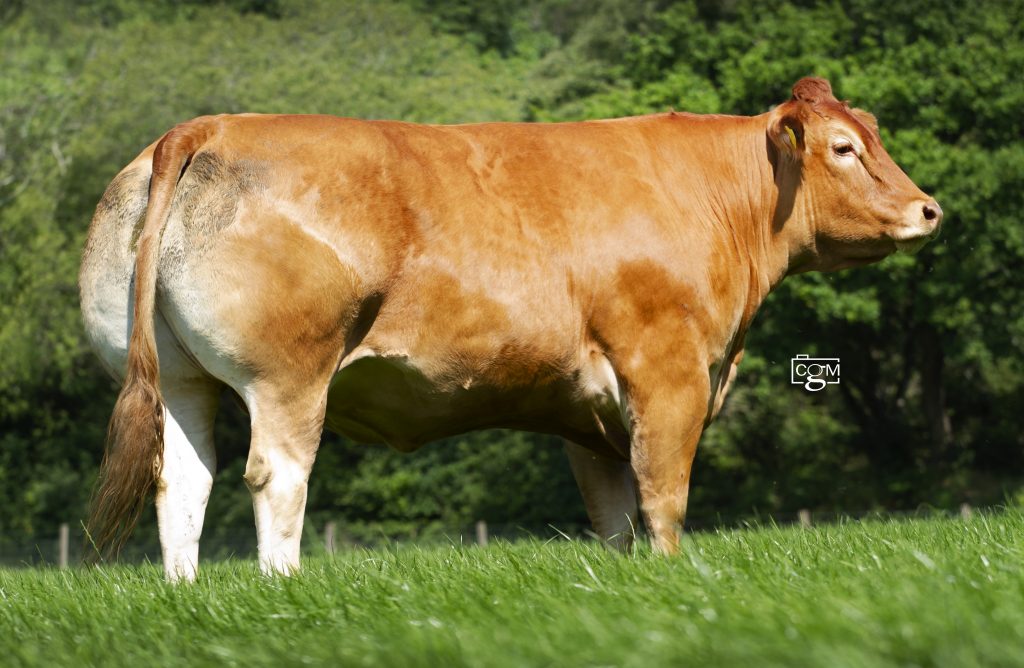 Two females then sold for 5500gns, the first being the noted Bankdale Elizabeth. This foundation female was originally bought for 35,000gns and has since grossed more than 350,000gns worth of progeny. This Wilodge Vantastic daughter is out of Bankdale Alice and has bred sons to 38,000gns and females to 8000gns. Buying this October 2009-born cow was Tom Hilsdon of Poole Limousins, South Molton, Devon.
The other at this money was Foxhillfarm Oceana, a June 2018-born daughter of the 145,000gns Trueman Jagger, again out of the previously mentioned Bankdale Elizabeth. Buying this one was Helen Wilson for her Bankdalefarm herd, Wreay, Carlisle.
At 4200gns was Foxhillfarm Roxy, an embryo calf out of Gelnrock Illusion by Objat. This one is full sister to the 9000gns Foxhillfarm Priceless, sold at the Red Ladies Sale in 2019. Buyers here was Michael Savage, Ballnahinch, Co Down, on behalf of his daughters, Chloe and Hannah, for their Boelyn herd.
Sale leader of the frozen embryos on offer that were sold alongside a recipient female was a pair of Grade A embryos by Broadmeadows Cannon out of the herd's matriarch female, Bankdale Alice. These sold at 3800gns to Tom Bailey, Batterstown, Co Meith, Eire.
We'd like to thank everyone at H&H for accommodating us and doing such a great job considering the tricky times for selling stock at a sale, thank you to the Foxhill team of helpers who put the hours in at home and at the sale. We'd like to wish all the buyers the very best of luck with their purchases, we hope you have the success and pleasure we've had with these fantastic cattle.
Averages: Sale averages: 9 Cows and heifers served and/or suckling £5355; 3 served and maiden heifers £10,850; 1 young bull – £4987.50; 9 embryo calves – £4935; 8 pairs of frozen embryos £3132.50 (Harrison and Hetherington).